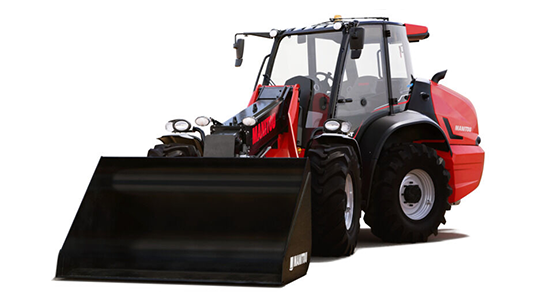 The MLA-T 533-145 V + is the newest articulated telescopic loaders designed by Manitou.
Static tipping load with forks (straight): 4978 kg
I.C. Engine power rating: 143 Hp
Overall length to carriage (without hitch): 5.72 m
Unladen weight (with forks) with 4-post canopy: 8430 kg
More info
With a telescopic boom to cushion the jolts while traveling with or without load, the 533-145 V + makes your daily handling jobs easier. It's designed with innovative features on the agricultural market such as; 4 wheel drive and steering, 45 degree articulation, connected system, possibility of changing attachments in just a few seconds (buckets, clamps, forks …) to overall increase productivity on the jobsite. This all-terrain telescopic loader, the MLA T-533-145 V+, fits all your requirements to effectively help you in all of your handling operations.