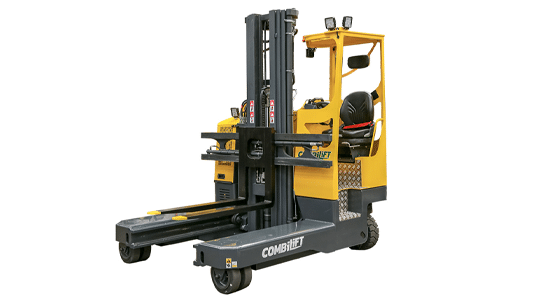 COMBI-MR4 360° ™ 3,500KG – 4,500KG
The agile multi-directional forklift, with Dynamic 360° ™ Steering System is designed for the safe, space saving and productive handling of long and bulky loads. Suitable for handling: Guided Aisles, Long Loads, Narrow Aisles and Palletised Goods.
Capacity: 3,500 kg – 4,500 kg
Platform Length: 1200 mm
Overall Width: 3230 mm
Engine Type Available: Electric
COMBI-MR4 - THE AGILE MULTI-DIRECTIONAL FORKLIFT THAT CAN OPERATE IN THE TIGHTEST SPACES, WITH NEW DYNAMIC 360° ™ STEERING SYSTEM.
Combilift's Multi-directional stand-on reach truck which offers superb manoeuvrability and safety in the tightest working conditions.
Aluminium
Building Materials
Logistics
Metals
Plastics
Steel
Timber
Warehousing
Standing Operator Over-Head Guard
Multi Directional Operation
AC Electric Steering
AC Motor Technology
Multi-Function Joystick
Optional Integrated Hydraulic Fork Position