Tips for Forklift Operation in Winter
Any forklift will eventually experience wear and tear, regardless of the season, although it's not unusual for this wear and tear to worsen as winter approaches. It's crucial that forklift operators are particularly cautious throughout the winter months as the weather gets harsher and the number of daylight hours decreases.
Winter poses serious risks, such as heavy snowfall, thick ice, intense cold, and poor visibility, which can all happen throughout the stormy months. Cold and rainy weather can have a significant impact on the engine and the overall electrical system. Accidents and malfunctions are very likely to occur due to the winter strain. The greatest approach to make sure that you remain as safe as possible throughout the colder seasons is to ensure that you are knowledgeable on the best ways to safeguard your equipment.
You can reduce your chances of accidents or breakdowns throughout the winter by following this maintenance advice. Read on for our guide to forklift safety tips during winter.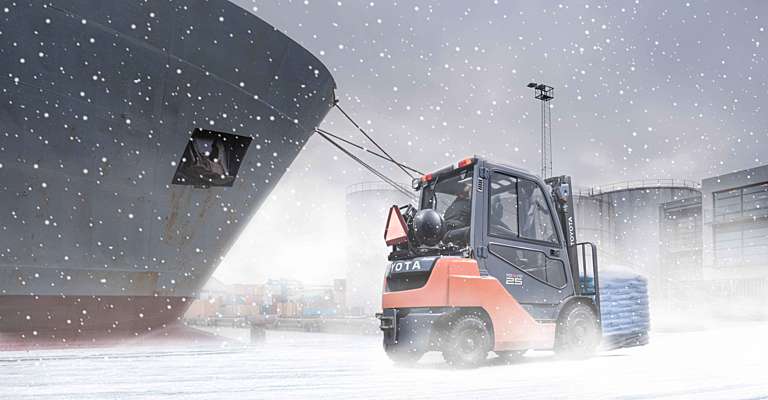 Check Your Tyres
Tyres on forklifts deteriorate over time from constant use. This means that tyre inspections should always be a part of your routine forklift maintenance programme, but you should pay particular attention to this during the winter.
Check the tyres of any forklifts operating in outdoor or unheated areas carefully before using them. You should be on the lookout for:
– The amount of wear remaining
– Cracks or chunking, where pieces of rubber may fall off the tyre
– Flat spots where one part of the tyre is balder than the rest
– Inflation – tyres should not be over or under inflated
If the tyres on your forklift seem worn, always replace them. This is crucial in the winter when slippery surfaces require you to make sure your tyres are in perfect condition.
Keep Your Forklifts Covered
If you can, keep your forklifts covered during the winter months. Excessive ice and frost can cause mechanical problems, and you're likely to find yourself waiting a while for your forks to defrost thoroughly before you can use them.
Ideally, you would keep your forklifts parked safely indoors where it's warmer and drier. Many people have dedicated cabins where their forks are stored when not in use. Otherwise, parking them in sheltered spots or covering them with a suitable wrap is the best way to prepare for unexpected cold spells that could delay work.
Be Wary of Fluids
The fluids in vehicles, including forklifts, can be adversely affected by the chilly winter temperatures. All of your forklifts should have the appropriate fluids for operation in such situations once the temperatures in your location start to fall dramatically. The way in which winter weather effects forklift fluids doesn't just hurt the performance of the machine, it can cause immense damage over time.
You should immediately replace the regular forklift oil and hydraulic fluid you use with winterized versions that can survive the dip in temperature to prevent prolonged mechanical problems and expensive repairs. Make sure that the winterized fluid you're buying is the right fit for the specific climate conditions in your area.
Planning For Proper Repairs and Maintenance
The colder months provide specific types of challenges for maintenance that a thriving indoor or outdoor forklift operation will face. Performing skilled routine maintenance during months filled with snow and ice will require close attention to detail when inspecting the mast, electrical, and fuel systems.
A forklift is one of those precise and heavy-duty pieces of equipment that functions better after a detailed tune-up during the winter months, which will prevent long standing damage incurred from the harsh effects of a sub-zero climate.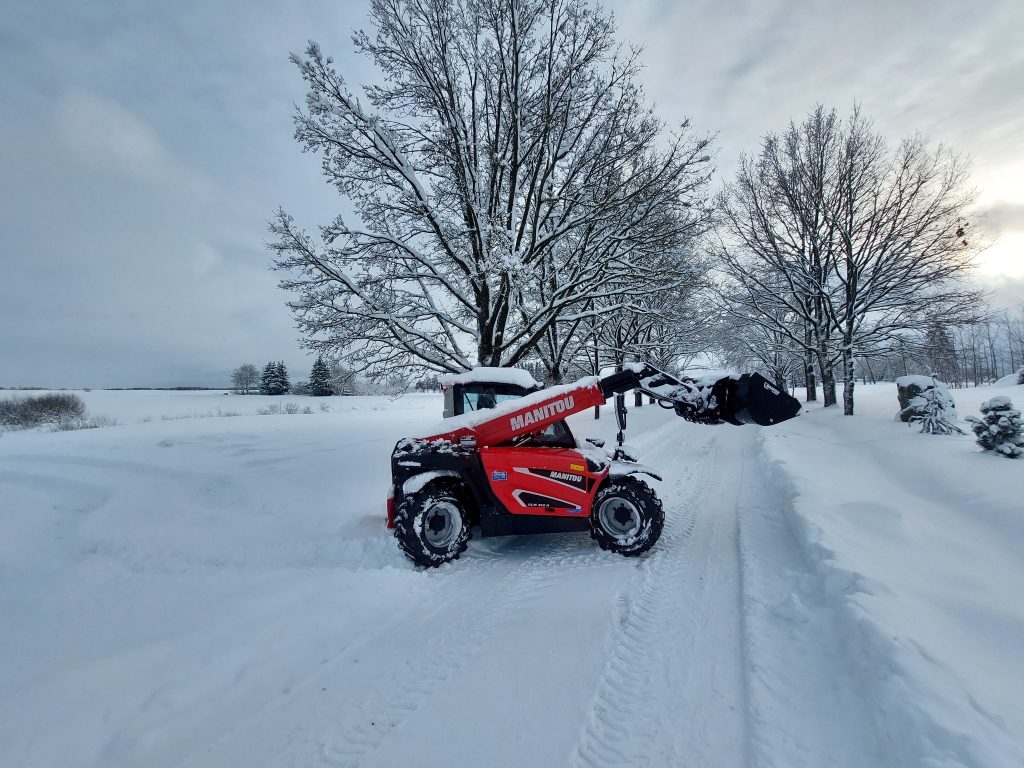 Make Sure Your Forklift Has Been Serviced Properly
Checking your forklift every day is a must, but there is no point in checking your truck on a daily basis if the appropriate service hasn't been carried out on it. Forklift servicing ensures that there comprehensive and thorough checks on your truck.
At Groundwater we take responsibility for maintaining your trucks, we ensure your trucks meet all safety requirements, and prevent unplanned downtime and costly repairs.
Are your forklifts winter-ready? Talk to us today about our forklift winter services. Call us on 1569 763247 or email service@groundwater.uk.com