Groundwater Lift Trucks
has been working alongside
Swire Energy Services
(SES) for more than a decade, providing material handling equipment and service support. With the undeniable growth in the demand for the transition from diesel to green energy, it is it is great to see SES, one of our major clients, pave the way by harnessing a cleaner and more sustainable energy source to power every aspect of their enterprise. A route that will undoubtedly be followed by many others in the near future.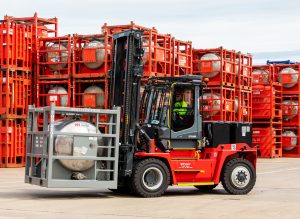 Service is paramount at Groundwater Lift Trucks, and we take pride in helping SES to achieve their goal to become carbon neutral by 2030. Our Key Account Sales Executive, Mark Ferguson worked with SES to ensure the trucks heading to their sites were the perfect fit. Ten new Kalmar Electric ECG trucks were ordered, ranging from 8 to 15-ton capacity, and the fleet has now been delivered to the various SES sites.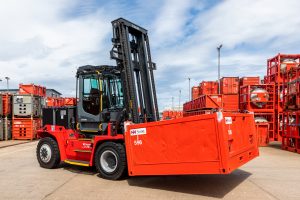 Groundwater Lift Truck's Managing Director, Barry Groundwater said the following:
"I think the Swire Energy Services contract is a great example that highlights the lengths we are willing to go to in order to guarantee customer satisfaction. If a customer has a request, we will do all that we can to make that happen."
The new Kalmar EGC range perfectly matched SES's needs. Built on the tested and proven G-Generation platform, the new range of completely electric powered forklift trucks offer both power and performance, while reducing your carbon footprint and fuel costs.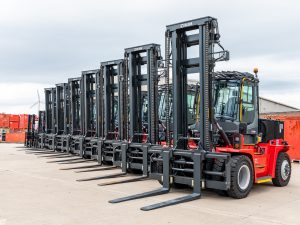 Andy Moig, Group Sustainability Manager at Swire Energy Services commented:
"Sustainability is one of our top priorities. Swire Energy Services is leading the way with its commitment to achieving Net Zero carbon emissions by 2030. As such, prioritising partners who will support us in achieving this goal is paramount.
We are pleased with Kalmar and Groundwater's commitment to helping us on our decarbonisation journey."