FORKLIFT OPERATION ON PUBLIC ROADS: THE FACTS
Forklift trucks are allowed on public roads as long as long as they adhere to the requirements held up by law.
1) Your forklift truck must be registered by the DVLA, insured and taxed if you wish to operate your forklift on a public road.
2) The correct lighting is also required for operating your forklift truck on public roads. When travelling below 25phm, this includes an amber beacon that lights up. On top of this, you must also display license plates on your vehicle.
3) Your forklift operator must be fully qualified to operate the machine as well as holding a full UK driving license. Age restrictions may also apply depending on the weight of your forklift truck when fully laden. Always double check requirements before assigning a vehicle to an operator.
What about short distances?
A common misconception held by many is that if only operating your forklift truck over a short distance, the rules and regulations above do not apply. This is a false assumption.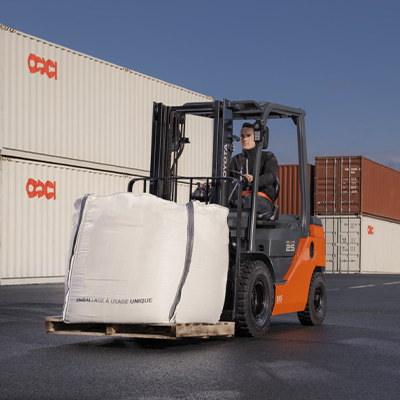 If you travel less than 1000 yards at a time whilst operating your forklift truck, If your forklift is travelling less than 1000 yards in one go, your truck will be classified as a work truck, however, it still needs to be licenced and registered. Work trucks are forklift trucks that use public roads for passing between premises with a distance of less than 1000 yards, operating between private premises in distances under 1000 yards, or if operating on roadworks. Some work trucks may be exempt from the Road Vehicles (Construction and Use) Regulations, but the truck must be insured and registered.
If you are traveling further than 1000 yards at a time, your forklift will not be classed as a work truck and will require more standard licensing and registration. Forklifts are usually taxed based on the truck's weight and propulsion system. An HGV classification will be given to any truck that exceeds 3500kg when fully laden. Trucks weighing less than 3500kg when fully laden will be classified as a light goods vehicle. All electric forklift trucks will be taxed under the electric vehicle tax. In some cases, you may be required to modify your truck to guarantee that it complies with the Road Vehicles (Construction and Use) Regulations.
Registering your Forklift Truck With the DVLA
To register your forklift truck with the DVLA you must request a V55/5 form online which will be posted to you, along with an information pack which you must fill out and return.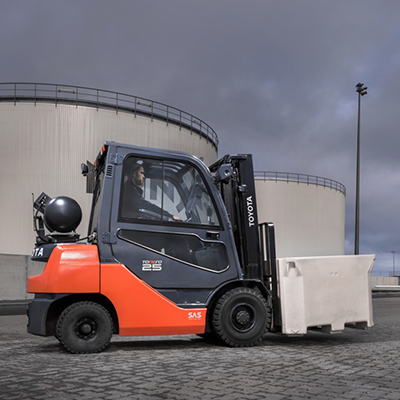 To complete this process, you will need a number of pieces of documentation from yourself. The documents required will differ varying on what class of forklift truck you are registering. The DVLA can provide you with a full list of required documentation. Commonly requested documents include:
–  Certificate of insurance
–  Test certificate
–  NOVA form
–  Copy of the operator's driving license
For More Information Contact Our Sales Team Today: